Join us as a Camp Catch-Up STAFF or NURSE!
Camp Catch-Up relies on its dedicated Staff to supervise, support and guide the campers as they set out on their summer camp adventures with their brothers and sisters. This can be an emotional time for campers, many of whom have experienced trauma, abuse or neglect. That's why it's important that our Staff is sensitive and empathetic to the needs of these children. Camp Staff will be responsible for supervising a sibling group of between 2 and 7 kids.
Sometimes youth in the foster care system lack consistent, supportive adults in their lives. At Camp Catch-Up, we strive to provide a safe and stable environment for our campers. Before applying, please be certain you can make a full commitment to your assigned campers while at camp. This includes fully attending and engaging in online and at-camp staff training and being mentally and physically present while at camp, all day, every day.
Camp Catch-Up is a technology free camp. All Staff are required to turn in cell phones and other electronics at the end of staff training (before campers arrive). There will be breaks throughout camp to check messages, emails, etc. There will be emergency camp phone numbers provided in case your loved ones need to reach you at camp.
Job descriptions
STAFF
Camp staff must be at least 20 years old at the time of camp. Staff is responsible for supervising a sibling family and must fill out an application, complete an interview, and pass a background check. Applicants must have 2 years of education or experience working with children or youth, especially those who have diverse backgrounds. Experience and/or understanding of foster care system is a must. Staff must be physically able to participate in the activities, including but not limited to the following: canoeing, ropes course, crafts, hiking, water activities, walking and on feet for long periods of time.
CAMP NURSES
Nurses must be RN or LPN certified and will be responsible for supervising all medical needs of campers and staff. This includes providing care in cases of accidents or emergencies, caring for ill campers or staff, and administering and storing all medications. Applicants must have education or experience in child development and working with children who have behavioral and emotional difficulties. Must be able to lift up to 50 lbs. A copy of current license must be included with your application.
What are you doing this summer?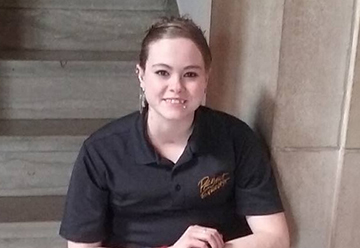 "I volunteered last year and I loved it! Best camping experience I've ever had. I love being a part of someone's life and witnessing the amazing opportunity to develop a relationship with their sibling. Helping  youth experience "fun" and "being happy" even when their life may not have been the best in the past. I like being a positive part of a youth's growing experience. I want to give back to what has made me who I am and allowing siblings to bond in a positive environment, which I didn't have growing up." 
-Rosetta Judd
---
Ready to join the team?
There are two camps to choose from. You can join the Staff for one or both of them.
Western NE Camp: Located at the Nebraska State 4-H Camp near Halsey, Nebraska. Staff arrive for training on Wednesday night, June 15. Campers arrive the afternoon of Thursday, June 16. Campers and Staff depart at 1:00 PM on Sunday, June 18.
Eastern NE Camp: Located at Eastern NE 4-H Center near Gretna, Nebraska. Staff arrive for training on Thursday, July 13. Campers arrive to camp the next day on Friday, July 14. Campers and Staff depart at 1:00 PM on Sunday, July 16.

Prefer a printed application? Call Alana Pearson at 402-380-4552 or email apearson@nebraskachildren.org to request one.